CALL FOR CURATORS
Visiting Curators VIENNA 2018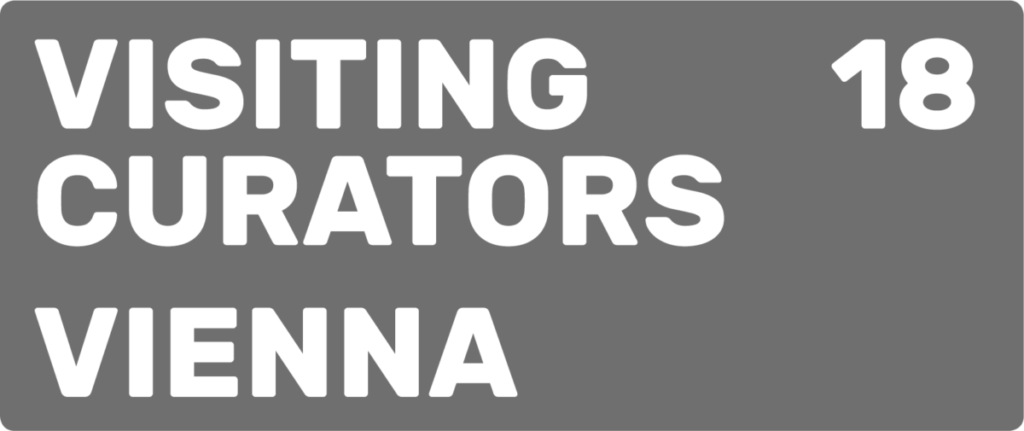 Verein K is happy to announce the launch of Visiting Curators VIENNA 2018, a new residency program taking place in Vienna. For its first edition, four international mid-career curators will be chosen based on the quality of their work and the exhibition project(s) they submit.
The selected curators will get a chance to spend ten days in Vienna, from the 24th of September to the 3rd of October 2018. Verein K will advise them before and during their stay as well as organize and facilitate meetings with artists and other actors of the contemporary art scene, with the aim of helping them to establish long term contacts in Austria. The cost of travel and accommodation will be covered by Verein K.
The program is looking for curators who:
• have curated exhibitions in museums and/or other art institutions
• will realize an exhibition in the upcoming two years outside of Austria and are interested in including artist(s) based in Austria
Please include the following information in your application:
• what have you curated before?
• are there specific media, e.g. painting, new media, etc., that you are interested in?
• what exhibition(s) you are planning? Please include a description of future plans.
• which are representatives (artists, curators, gallerists, etc.) of the Viennese contemporary art scene that you would like to meet during your visit?
• do you wish to meet other curators who might like to collaborate?
This is what we offer:
• help in selecting artists, curators and institutions relevant to your current projects and interests
• help in arranging meetings and visits according to your interests: visits of artists' studios, off spaces, art collections, and guided tours of selected gallery exhibitions, visits to art fairs (viennacontemporary, Parallel Vienna)
• covering accommodation and travel costs, per diem of EUR 40
Please send in your CV, a portfolio of relevant realisations and the proposals of one or several exhibitions for which your stay in Vienna would be relevant by the 3rd of August 2018 to info@verein-k.net.
Selection will take into account gender balance and diversity. There's no specific theme.
The program will take place in English.
Verein K is an independent arts and cultural organization from Vienna, founded in January 2018. Verein K focuses on projects in the field of contemporary art and culture connecting diverse cultural and social interests: critical approaches to contemporary art, creating curatorial platforms as well as enabling innovative cultural practices including diverse social groups.
Impressum
Verein K – Kunst, Kultur, Kommunikation 
ZVR – Zahl: 1413308554
info@verein-k.net 
+43 699 176 300 21 
IBAN: AT05 2011 1838 5345 0200