Spring 2020 Canceled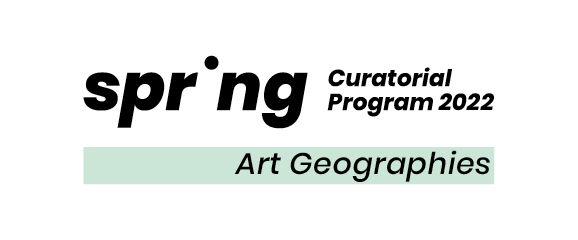 23. May – 1. June 2022
Location: Vienna, Austria 
Schedule
Program

Spring Curatorial Program 2022: Art Geographies explores the relationship between art, theory and politics by dealing with borders, maps, myths, landscapes, wars, territories and other planetary phenomena of today's geographies. Following emancipatory ways of social subjectivation (the politics of belonging) rather than representative modes of geopolitical identification (the politics of identity), the program focuses on critical, decolonial, feminist and material dimensions of planetary co-existence. 
Moving from theoretical insights into artistic and curatorial practices, especially those that introduce geography into the realm of political thought and social life through performative voices, visual inscriptions and displays, aesthetic perfections or errors/glitches, the program explores counter-cartographies engaged in critical, participative and discursive investigation of geopolitical borders of identification and exclusion. By presenting various artistic, theoretical and curatorial works and practices through daily seminars, screenings, readings, lectures and discussions, the program thus questions the dominant ways of geopolitical situating of people, earth and its (non)human life. 
Motivated by the politics of belonging, but also by the politics of resistance to any geopolitical exploitation of people (contemporary racism) and earth (neocolonial extractivism), this program finally searches for social, political, ecological and ideological imagination of possible future geographies, giving a meaningful insight into politically or socially engaged living practices that connect cognitive with affective, perceptual with representative, and imaginary, but also impossible with real.
Program speakers and contributors (in alphabetical order): Andrea Ancira, Waala Alqaisiya, Aleksei Borisionok, Lana Čmajčanin, Raino Isto, Ruth Jenerbekova, Margareta Kern, Bouchra Khalili, Elke Krasny, Katja Kobolt, Brandon LaBelle, Stephanie Misa, Luis Ortiz, Jelena Petrović, Oleksiy Radynski, Philipp Sattler, Klaus Speidel, Kate Sutton, Steven ten Thije, Madina Tlostanova, Rojda Tuğrul, Françoise Vergès, Slavs and Tatars, Milica Tomić and others.
The Spring Curatorial Program was initiated in 2020 by Verein K in collaboration with Jelena Petrović, who conceptualised and curated the first edition, untitled: Art Geographies (as the result of the FWF research project V-730: The Politics of Belonging – Art Geographies 2019-2023).
The Spring Curatorial Program 2022: Art Geographies is co-organised by Verein K and Academy of Fine Arts Vienna and supported by:
FWF Austrian Science Fund, ERSTE Foundation, Austrian Federal Chancellery, the City of Vienna, Slovenian Cultural Centre SKICA, and in partnership with mumok kino, Depot – Kunst und Diskussion, IZK – Institute for Contemporary Art and Annenstraße 53 (Graz), Crvena Association for Culture and Art, Ukrainian Institute.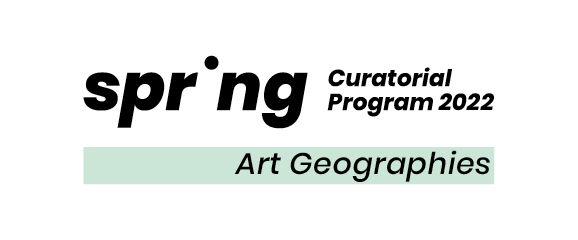 Verein K is an independent arts and cultural organization from Vienna, founded in January 2018. Verein K focuses on projects in the field of contemporary art and culture connecting diverse cultural and social interests: critical approaches to contemporary art, creating curatorial platforms as well as enabling innovative cultural practices including diverse social groups.
Impressum
Verein K – Kunst, Kultur, Kommunikation 
ZVR – Zahl: 1413308554
info@verein-k.net 
+43 699 176 300 21 
IBAN: AT05 2011 1838 5345 0200