Sunday, 27. September 2020, 4:30pm
Vienna Contemporary, C21
Marx Halle Vienna

SPRING CURATORIAL PROGRAM 2020: ART GEOGRAPHIES
About the program
SPRING CURATORIAL PROGRAM is an annual interdisciplinary program consisting of seminars, screenings, discussions, site/studio visits and public lectures with focus on art-based research and theory. It explores new ways of producing art and art theory, correlates artistic research and curatorial practice, and reconsiders (non)aesthetic exposures of the politically engaged art. Through epistemological, discursive and visual experimentation with exhibiting or curatorial concepts, artistic research and critical positions, this program challenges boundaries of the contemporary art and discusses a possibility of creating an art state beyond today's system of art commodification.
SPRING CURATORIAL PROGRAM is designed for MA and PhD students, post-doctoral candidates, young researchers and other participants with an interdisciplinary background related to art, theory and/or curatorial practice. Through this program all participants will co-create and share a unique platform dealing with current critical, epistemological and practical approaches to a specific topic each year led by renowned theoreticians, artists, researchers and curators.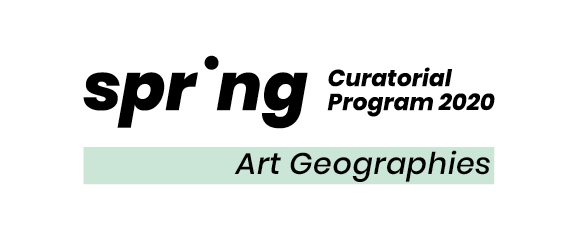 Duration: 20. – 29. April

Location: Vienna, Austria
Program guests:
Antonia Alampi, Lawrence Abu Hamdan, Noit Banai, Charles Esche, Lana Čmajčanin, Margareta Kern, Brandon LaBelle, Nataša Petrešin-Bachelez, Jelena Petrović, Red Min(e)d, Klaus Speidel, Madina Tlostanova, Françoise Vergès, and others.
After many theoretical, practical and political attempts to redefine the geopolitics of the contemporary world, there has always been present an impossibility to define any geographic location outside the global map of the hegemonic distribution of power. Inhuman chains of migrations, extreme class differences, global rise of the right-wing politics, religious fanaticism and fascism along with catastrophic climate changes are becoming a global geopolitical frame of today's neoliberal society. Using different means of diversification – the old ones such as colonial, capitalist and patriarchal mechanisms of social and geographical (re)production and the new ones such as technological, scientific and (techno)cultural methods of political and territorial identification – it is obvious that our global world has become a geopolitical space where most people do not feel to belong to. Following the link between unsettled geographies and the politics of belonging, Spring Curatorial Program 2020: Art Geographies explores critical, decolonial, feminist and materialist theories side by side with artistic, sound, digital and discursive practices. Addressing the possible mode of political subjectivation (the politics of belonging) rather than another mode of (geo)political identification (the politics of identity), the program looks for critical geographies shaped by geopolitical zones of discomfort.
Jelena Petrović, from the curatorial concept
Program details and timeline will be published soon.
Verein K is an independent arts and cultural organization from Vienna, founded in January 2018. Verein K focuses on projects in the field of contemporary art and culture connecting diverse cultural and social interests: critical approaches to contemporary art, creating curatorial platforms as well as enabling innovative cultural practices including diverse social groups.
Impressum
Verein K – Kunst, Kultur, Kommunikation 
ZVR – Zahl: 1413308554
info@verein-k.net 
+43 699 176 300 21 
IBAN: AT05 2011 1838 5345 0200